Text Based Recruiting Made Simple
There's nothing more valuable in business than your time and your bottom line. Save more of both by simplifying your hiring process with our modern and easy to use text-based mobile app that helps you build and filter through your talent pools quickly and efficiently.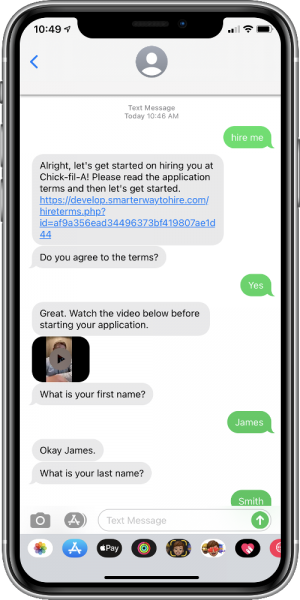 Simplify Your Recruiting Process
Join the hiring revolution that's taking place inside your candidate's phone. Bring your future employees to you through QR codes and texting applications.
Hire your next employee in twenty-four hours or less
You need top talent and you need it now. Hiring your next employee in 24 hours or less.
Be the first to reach out to potential candidates
There's nothing worse than losing a great candidate to your competition. Be the first to get in front of your top prospects so they hear your offer first.
Reduce overhead
Recruiting can be a costly business expense, both in terms of money and your time. Reduce your recruiting overhead by hiring qualified candidates more efficiently.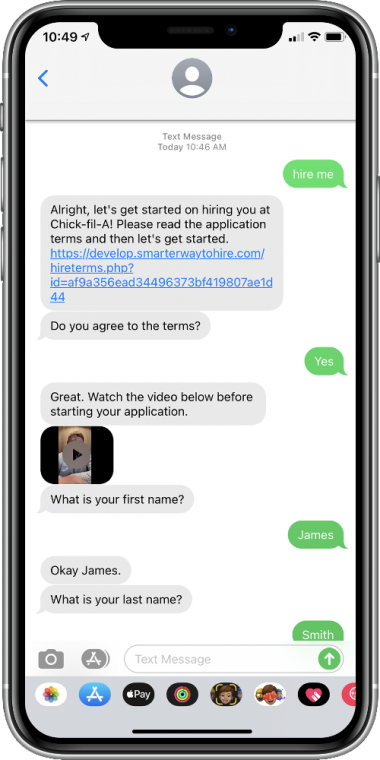 Need more than 150 applications per month? Contact our sales team for enterprise level hiring solutions.

"Smarter Way to Hire has revolutionized the way we screen applicants. Before using the app, we had to manually gather, review, and screen resumes before scheduling an interview that would work for all parties. This process was slow and only allowed us to screen 10 candidates per week. Using Smarter Way to Hire we can screen over 100 candidates per week. We have customized our scripts to ask applicants the questions we care about both via text and video. The Smarter Way to Hire app makes finding the right applicant easier!"
COO - Pepsi Cola Decatur, LLC
"We have seen an increased flow of applicants since we started using the Smarter Way to Hire app. This is great as we have a high demand for new talent. Customizing our scripts has allowed us to start calling applicants, getting them screened and interviewed faster. We have seen great success so far when we have posted our Smarter Way to Hire application on our social media channels. Great product and very pleased so far."
Hiring Manager - Chick-fil-A
"Smarter Way to Hire has quickly become an indispensable asset to our business. The ability to quickly pre-screen candidates using video submissions has saved us both time and money, and has given us the ability to focus on other things. It's quick and easy to use. I can't imagine going back to the old way of doing things. This is the future of hiring!"
Frequently Asked Queastions
How does interview scheduling work?
Setup availability with dates and blocks of time, and SWTH does the rest, including scheduling, applicant or employer reschedules, calendar invites and even blocking for vacation times.
What is a script?
A script is a customizable sequence of automated questions. The employer determines the questions to ask and the applicant replies, via a text conversation, to answer the questions.
What does an application script look like?
Your script can be as simple as:
Applicant: hire me
Employer: Hi! Thanks for your interest in working for us. What is your first name?
Applicant: Lorem
Employer: Okay Lorem, what is your last name?
Applicant: Ipsum
Employer: Thank you. Now send a 1-2m video telling us why you want to work here.
Applicant: [sends video]
Employer: Got it! That's all! Our hiring manager will contact you soon.
You can tell the script to send an email to one or more email addresses notifying you of a completed application. The email includes a link that will take them directly to the application, which looks like a "chat" between the applicant and your employer-script responses. A link for any multimedia messages will be in the chat for you to view your applicant's video responses.
What if an applicant sends a response that the script isn't expecting?
Each script sequence includes error responses that you can use to instruct an applicant to send an appropriate response.
How long does set up take?
Your account can be created in minutes by running through one of our automated scripts. Once you have your account credentials, we have default scripts you can add and use in minutes. Customization and tweaking of scripts may take a little longer.
Is the app integratable with my current process?
Yes! Smarter Way to Hire can integrate with your current recruiting platforms.
How much money will this save us?
This product automates the entire hiring process. One of our users stated "the ability to quickly pre-screen candidates using video submissions has saved us time, money, and given us the ability to focus on other things. It's quick and easy to use. I can't imagine going back to the old way of doing things. This is the future of hiring!
Do candidates like applying this way?
Yes! We have received great feedback from applying via text. Applicants are familiar with texting so applying via text seems like a logical progression.